Over the last few months the Action Group has been considering what might be the best way to go forward with publication and distribution of the UK newsletter. Our colleagues around the world in the USA, Canada, France and Australia have already made the move to online only, as have some of our UK subscribers. This has the benefit of being more environmentally friendly and is a significant cost saving.  (The cost of production and mailing of the quarterly newsletters is currently around £10k per annum).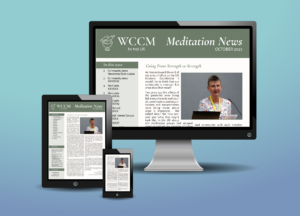 So in 2024 we are planning to change how we share both the UK and international newsletters making them available online in a format that you can read on a screen or print at home if you prefer.
Subscribers will be notified by email when a new issue is available. For those who need to receive a printed copy, you will be able to request this from the UK office and there will be a suggested donation to cover photocopying and postage.
In preparation for this change…
If you receive emails from us already you do not need to do anything at this point because we already have your email address.
If you do not receive email communications from us but have an email address, please email the UK office uk@wccm.org as soon as possible to update your details.
If you do not have an email address, we will contact you in due course.
Thank you for your continued support.
Julie Roberts
National Coordinator
WCCM in the UK