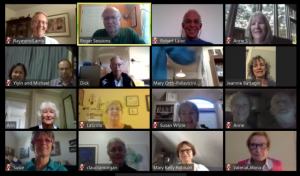 Online groups are helpful for several reasons: some meditators do not have a physical group within reach, or find travelling to one difficult; some lead very mobile lives but can continue to meditate in the same group from wherever they may be; others may welcome the opportunity to meditate with others more frequently than their own physical group can meet together.
The UK community offers an online meditation group every morning at 7.30am and evening at 6pm, along with an extra group at 8pm on Tuesday.  On Monday to Friday there is also a shorter (meditation only) lunchtime group at 12.30 pm.  
The meetings follow a usual format for the first half hour: welcome and introduction; reading; prayer; meditation; reading and closing prayer.  This is followed by an optional time of reflection on the readings, providing an opportunity to listen and share with one another.  
To attend an online meeting
Go to the WCCM Online Meditation Groups page where you will find a list of all the groups organised by WCCM. You can use the filters at the top of the page to select the language used in the group and the day of the week.  There are a few groups listed that are aimed specifically at Oblates and meditators on the 12 Step Programme.
Choose the group you would like to attend and click Join – you will be asked for your name and email address. Fill in the details and press send.
These details will be forwarded to the group leader who will send you instructions to join the group along with the link. The link is valid for all the UK lead groups and, once you have joined one group, you are welcome to attend any of the groups.
As the leader will be busy shortly before the meeting, it is advisable to sign up in advance of the first meeting you wish to attend.
For more information or help please contact Julia Williamson – click here for contact details.