Seasonal and Personal Resources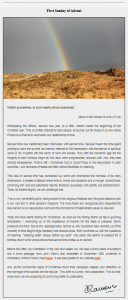 WCCM worldwide provide useful online resources that can be accessed from the WCCM website:
Daily Wisdom – a 'thought for the day' taken from the writings of John Main, Fr Laurence and others, that can be used during your preparation for meditation or afterwards.
Seasonal Reflections for Advent and Lent – series of slightly longer structured readings and commentary that form a simple Lent or Advent course.  Again these can be used before meditation or as preparation for Easter and Christmas.
Weekly Readings – longer readings that can be used before meditation along with a short prayer or poem for afterwards.  Although intended for meditation groups they are suitable for your individual practice if you have a few minutes to spend in preparation.
Weekly Teachings – a cycle of readings that support the teaching of Christian meditation and can help your growth as a meditator.  These are also available in a book, Food for the Journey by Kim Nataraja.
To receive the resources by email follow these steps:
Go to the Regular Mailings page on wccm.org. (This will take you to a new tab.)
There are two lists: for Daily Wisdom and for News and Seasonal Resources (Advent and Lent). 
Add your details and tick the

I consent to be emailed by the WCCM

box.
Click on the Subscribe button.
If you sign up for Daily Wisdom you should receive an email the following day; weekly resource emails are sent on Sunday.  At the bottom of the email you will find an update subscription preferences link. If you click on the link it will take you to the Mailing List page and you can change your current details and preferences. There is an unsubscribe link too.