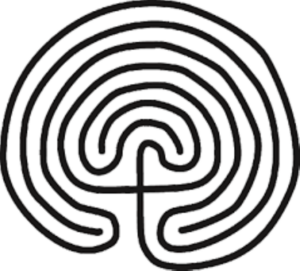 The labyrinth is an ancient symbol, metaphor and experience of prayer, holding, healing and renewal. It is one path, a journey into one's deeper self and into God. Well established in the universal Christian tradition over the centuries, then somewhat lost, but now resurgent in many churches and beyond. It is an opportunity for spiritual renewal and encouragement on your journey into God. Do come and "walk the path".
1. Definition
It is ONE PATH with twists and turns, has a beginning, a centre and an exit.
It is not a Maze, which has multiple often deceiving blind alleys.
It is a SYMBOL. A place (as can be a person or ritual) that discloses and represents a truth or reality beyond itself. When one engages with it and develops a relationship, it can be ever more revealing and not infrequently life changing.
2. History
The labyrinth is an ancient symbolic pattern that dates back more than 5 thousand years, across faiths, civilizations and cultures. Expressed in part by the Greek myth of Theseus and Ariadne and Theseus killing the Minotaur deep in the labyrinth on Crete.
The Labyrinth was an integral part of Christian worship and liturgy, coming to a peak in the early medieval period, a time of great social upheaval and change. Many cathedrals constructed them to be used in worship, feasts and festivals, for dance and celebration. It was also a metaphor in place of a pilgrimage to Jerusalem. The most important remaining one is in Chartres Cathedral in France.
In our present time of similar social chaos and uncertainty in the 20th and 21st centuries, there has been a reawakening interest in the Labyrinth in both Church and secular institutions worldwide.
3. The Labyrinth NEVER DICTATES. In only calls you to "walk".
Be mindful of your BODY, it's movement, your breath, your feet in the path heel to toe. It is experienced differently by each and every person and on each walk. It can at times be quite revealing and overwhelming. At others it is "blank". It is important to pay full attention and have NO expectation. It is of the heart, not the mind.
It calls you to respond to the "desire to love the journey, and arrive at a goal". To engage with the challenges of your every day life and at some point face your dying. It is one way of responding to the inherent desire within, and engage with, our deep spiritual unconscious core, our true self or soul. This might be in the context of a faith system or not.
4. The Three R's
"RELEASE". On your WAY IN: Let go, unburden all your preoccupations, hurts, angers, fears and frustrations. This may precipitate a sense and experience of loss and grief.
"RECEIVE". At the CENTRE: Be open to a possible 'gift' or 'insight' from, above, beyond, or within. Perhaps an answer or clarity and a sense of PEACE and JOY. Feeling a new harmony or balance.
"RETURN". On your WAY OUT: On a NEW path, renewed, stronger, lighter and with joy to the challenges of your every day and continue to serve others and be true to yourself.
5. It is an opportunity (Or one of many), to:
MEET and know YOURSELF.
MEET the divine and or sacred.
RELATE to others.
BUT have no expectation on this, or any one walk. Perhaps nothing happened nor touched you on this occasion. Accept this as graciously as possible and return another day.
Best reference
Gernot Candolini: Labyrinths. Walking toward the Centre (the most comprehensive book in my view) ISBN 0-8245-2102-1
Portable Labyrinth for Events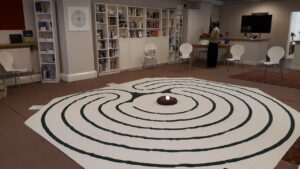 The Labyrinth has been presented at a number of venues, and in different group settings including at WCCM events and is offered to meditation groups and regions. I can travel to any event in the London, The South East and Home Counties. I levy no charge but ask for travelling expenses.
The dimension of my portable Labyrinth is: 4.60 meters wide by 4 metres top to bottom. It fits in most church or conference rooms with enough room round the sides for participants to sit. It takes up about half of the upper room at the WCCM Meditatio Centre where I have taken it a number of times.
I do also have a "baby one" that I use for childrens workshops.
Please contact me through the WCCM in the UK office.
Martin Garsed
Martin is retired from Medicine, having been a GP, Psychotherapist and Palliative Care Physician.
He is a Trained Spiritual director in the context of Franciscan spirituality. Active in the Prayer and Healing ministry in the Anglican Church and uses "The Labyrinth" as a prayer and healing tool and experience, giving presentations in Churches and other setings. "It always amazes me how this experience can be so special for many people in different ways according to their life situation and spiritual journey".