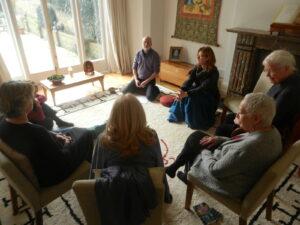 Since John Main started the first Christian Meditation Centre in London in 1975, a strong community of Christian meditators has grown steadily around the world. There are currently nearly 420 Christian meditation groups in the UK.
The heart of a meditation group is the sharing of silence together. The power of meditation in a group is summed up in the words of Jesus: 'For where two or three have met together in my name, I am there among them' (Matthew 18:20). Meditation is a journey that is difficult to make alone and we need the support of others if we are to persevere.
Meeting in a group creates a spiritual bond and a mutual concern between those who have set out on a common pilgrimage. The meditation group is really a community of faith, much as the early Christians experienced community in the time of St Paul.
The group setting enables beginners to learn how to meditate, and newcomers are welcome to join at any point in time. The group also provides support and encouragement to those who might be discouraged or experiencing difficulties on the path. From time to time we all need to be with others faithful and committed to the discipline.
We also need to absorb the teaching on Christian Meditation more deeply, and can do so at the meeting by listening to a recorded talk by Father John Main, Father Laurence Freeman or some other experienced guide. These talks give instruction, deepen our motivation and help us to persevere on the path, giving us a spiritual boost.
About Local Groups
Meditators meet in small daily, weekly or monthly groups, and the network of these groups provides wider support and encouragement for those who wish to sustain their daily practice of morning and evening meditation. Groups meet in homes, parishes, schools, prisons, business, religious communities and government departments.
Beginning with a short teaching on meditation, often drawn from the Community's collection of recorded talks by John Main, the group then meditates together in silence. After meditation, there may be time for discussion. The groups are by nature ecumenical and practice an open-door hospitality, welcoming anyone who comes sincerely seeking silence.
Group Regions
Meditation groups are listed in regions covering Britain. To find out the venues of meetings and contact details of your local group leaders you will need to contact the Regional Coordinator responsible for the group you are interested in.
Scotland
Wales
South East England – Oxfordshire, Berkshire, Buckinghamshire, Hampshire, Surrey, West Sussex, East Sussex, Kent, plus the Channel Islands
East of England – Cambridgeshire, Bedfordshire, Hertfordshire, Norfolk, Suffolk, Essex
North East England – Northumberland, Tyne and Wear, Durham, the historic county of Yorkshire plus parts of North Lincolnshire
North West England – Cumbria (including the Isle of Man), Lancashire, Merseyside, Greater Manchester and Cheshire
East Midlands – Derbyshire, Nottinghamshire, Leicestershire, Most of Lincolnshire, Rutland, and Northamptonshire
West Midlands – Staffordshire, Shropshire, West Midlands Metropolitan County, Herefordshire, Worcestershire, Warwickshire
South West England – Gloucestershire, Bristol, Wiltshire, Cornwall, Devon, Somerset and Dorset
London – Greater London
Lone Meditators Network: Linking Hearts
If there is no group near you, our Lone Meditators network has been set up to enable communication and support between individual meditators. For more information click here.